I had been to Salt Lake City a few times, but was never able to take in much of the culture and nightlife on those trips. But if you have even just a half-day, you can find many ways to get around and check-out this beautiful town. The
TRAX light rail, UTA busses
, bicycle and pedestrian infrastructure everywhere. One of our favorites were these buckets of "lollipops" that you can use to cross busy streets in marked cross-walks.
There is a bucket of flags on either side and you just grab one before you cross, so you'll be that much more visible to motorists.
One would also think that bicycles are taking over the city with as much attention and publicity they seem to get.
Bikes were to be found parked on nearly every block. This hitching post was outside the
County City Building
.
After
visiting Madsen Cycles
on Friday, our destination on Saturday was the
Main Library
.
The building is a beautiful structure of glass and stone that feels like a modern-day coliseum. We discovered displays of art and knowledge at every turn, from posters describing the lives of peace leaders like Ghandi and Martin Luther King, Jr. on the lower basement level, to a selection of
Thoreau
books on the 4th floor that included a children's adaptation of Walden Pond called
"The Trouble With Henry"
.
By the time we reached the roof-top deck, we had already walked through the Live Green Expo that was going on in the courtyard below.
This was completely coincidental, as we had no idea that this event was taking place until we stumbled upon it. First we found the booth of an electric scooter and bicycle company that had an
A2B
that caught my eye. I liked the part spec, especially the 20"x3.0" tires and Avid mechanical disc brakes.
There was a huge solar panel array powering a
Squatters
Brewing beer trailer (cooling beer with the sun...awesome) next to the
Stick Dog Pedicabs
booth, where we ran into their fleet of Madsen bucket bikes. One was decked out with a custom vinyl cover that I admired.
After running into Jared Madsen in the crowd, we spotted members of the band
Shake your Peace
setting up for a bike-powered concert that we unfortunately couldn't attend later that afternoon.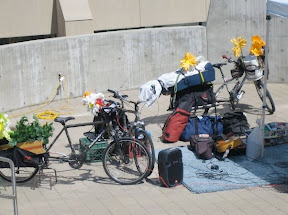 The rest of the day included a stroll through
Liberty Park
, authentic Napoli pizza at
Settebello
(two thumbs up for the pizza lasagna), a ride on the TRAX, and a pint of
Wasatch Evolution Amber Ale
. What a great city.
In fact, I kept asking myself, "Why don't I live here?" And the answer was
air quality
. My sister says that the inversion haze can block the view of the Ocher Mountains from the opposite side of the valley on really bad days. At the Live Green expo I saw how many ways Utahans are trying to improve that situation, so perhaps one day SLC will make it to the top of my list. For now, it's a great place to visit and I look forward to going back.